I would like to establish just how much remains unchanged on the Itadaki Street Portable English Patch. The only unfinished tasks that I am aware of is the completion of the in-game banter between the characters and maybe some conversations in the Chat Circle. That does not seem like much, but my text inserter says otherwise: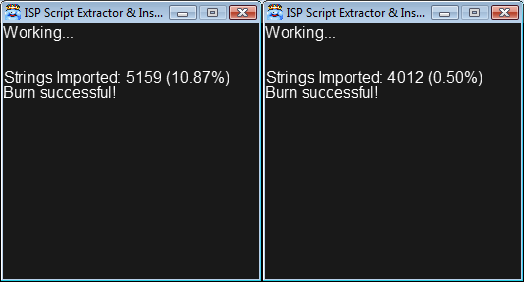 The image on the left represents my progress on BLOCK 0 (In-Game Character Dialog). Notice the "Strings Imported" line. There are 5159 phrases spoken by characters in this block alone, and of those phrases only ~11% of them are in English. The image on the right is BLOCK 1 (In-Game Character Dialog aimed at the Player). That's right, there are two of these things. This block has 4012 phrases, and only .5% are in English
Though I would have loved to see these screens say '100%', I just can't bring myself to do it. All I wanted was to bring this series to English-speaking audiences, and that was achieved with Fortune Street for the Wii. Good day, and good luck getting the domination trophy!